Homegrown Wrappings is committed to gifting without needless waste. We put in the work to repair, renovate, and sanitize each piece of "junk" and send it off to a new home, continuing its tangible adventure.

No one-person can save the world, but we can all do a little better. If you are ready to send a gift that holds sustainability in its heart, click below!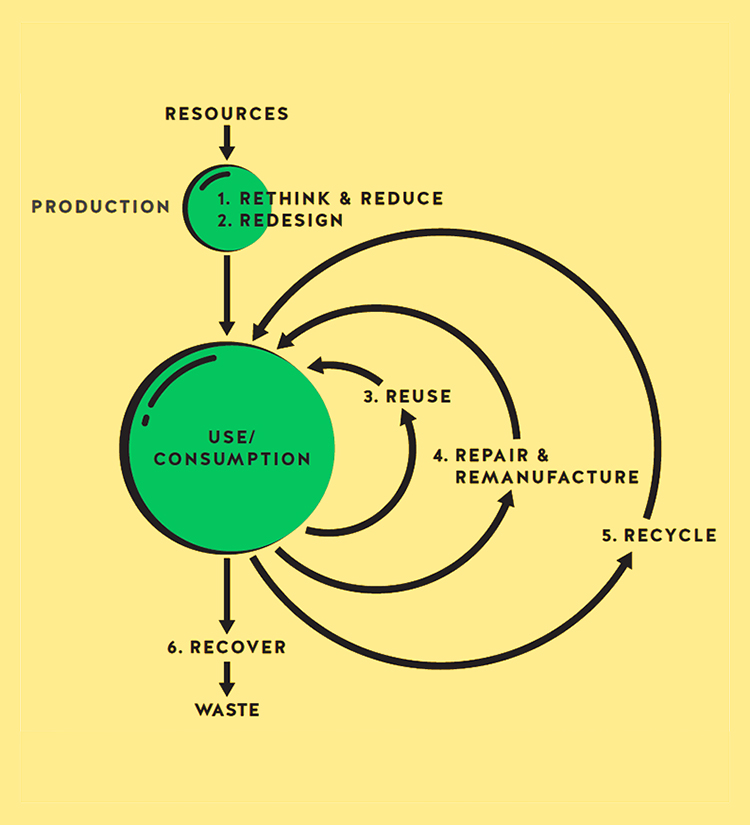 Adapted by Plant Chicago from PBL Netherlands Environmental Assessment Agency. themasites.pbl.nl/circular-economy/
Homegrown Wrappings is a member of Plant Chicago's Circular Economy Leadership Network, which means we have connected with managers, owners, and creatives in a number of industries in the Chicagoland area.

Through this leadership network, we have committed to provide earth-friendly waste streams for hard to recycle items, such as cork, #6 plastic rigid cups, and certain office supplies. We aim to continue expanding this list, and we want you to contribute! Contact us to make an appointment, or stop by the shop on Fridays between 10am and 6pm.

We are always interested in promoting collection events, so let us know about them!
Find us on Instagram, Facebook, or email us at hello@homegrownwrappings.com
We use donated funds to ship our collected recyclables to the processing facilities, to start and maintain new waste streams, and to offset our carbon footprint in all things shipping!

Take a look below for some of our favorite businesses, non-profits and organizations that are doing excellent work in other fields of greening.
Terracycle
This national and innovative company recycles hard-to-recycle items, including #6 plastics, snack bags, and PPE.
WasteNot Compost
Chicago composting for homes, businesses and events. It's so simple, and your impact will be abundantly clear.
Battery Solutions
With headquarters in Michigan and Arizona, this national company is a leading champion for battery recycling.
City Farm, Chicago
With Education and Advocacy programs, this group turns vacant lots into sustainable farms and so much more.
Junk in the Truck, Illinois
We've all got some junk. This business is committed to recycling and repurposing as much "junk" as possible.
Chicago Market Co-Op
The Market supports sustainability in all areas, including environmental stewardship, fair labor practices and cooperative principles.